Outlining 7 Best Healthcare Software In 2023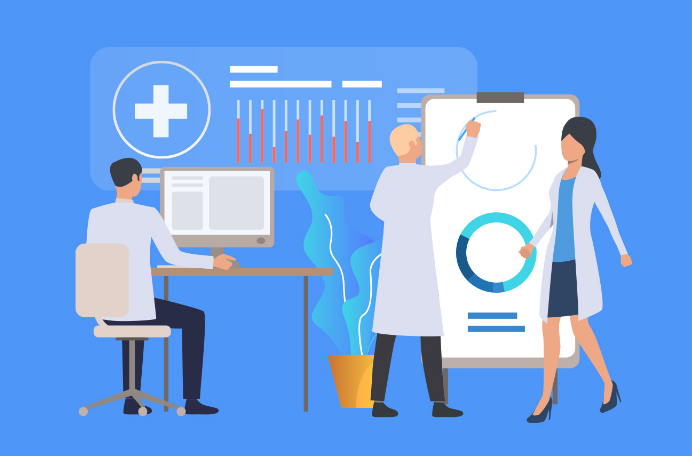 Healthcare software is more important than ever in modern hospitals and clinics. Doctors can view a patient's history or save their clinical notes with a single mouse click. Its flexible features allow for the delivery of care remotely by means of telehealth resources and electronic prescription administration. Healthcare software also accelerates appointment scheduling and reporting.
Doctors now have access to a wider variety of tools to deliver more efficient care thanks to healthcare software. Thus, patient care also improves. Patients may easily communicate with their doctors, schedule appointments, and renew prescriptions with the given patient portals. Hospitals and other medical institutions must invest in appropriate healthcare software to provide the best care possible.
Given the abundance of choices available, making a final decision can be time-consuming, especially for first-time purchasers. Here is a list of the best seven healthcare programs for various hospitals and medical centers. Let's get started with the first healthcare software program on our list.
Aprima EHR
Aprima EHR is a viable healthcare software option for any hospital or clinic because of its wide range of features. Its versatility is shown in the large variety of clinical and administrative capabilities it provides. A health records solution that is quick, adaptable, and powerful is provided as well to enhance and streamline clinical procedures.
It's a patient portal and mobile app built on a telemedicine platform. In addition to its EHR features, Aprima EHR offers a robust RCM system. The streamlined communication between care team members is another benefit of its integrated services.
Pros
Its features are useful for both medical professionals and their patients.
Multiple files can be analyzed and charted simultaneously.
Its mobile app outperforms the competition in terms of efficiency.
Cons
On rare occasions, upgrades will alter your personalized settings.
Pricing
The initial price for Aprima EHR starts at $99.
Noterro
The web-based clinic administration tool Noterro simplifies massage therapists and other healthcare provider practices. Its admin functionalities help practices run seamlessly. This includes appointment scheduling, practice management, SOAP charting, billing, and invoice processing.
Analysis and finance methods simplify healthcare administration, making it useful. It simplifies billing, payments, and analytics. Web-based clinic management eliminates the need for healthcare providers to handle billing. Its simple interface makes it easy to classify and explore patient notes by date range, condition kind, and more.
Pros
The documentation method is expedited, including producing patient charts, SOAP records, report cards, and treatment decisions.
It helps reduce no-shows and rescheduling requests thanks to its easy-to-use appointment scheduling capabilities.
The confidentiality of patient information is safeguarded with reliable security and privacy measurements.
Cons
Noterro presently has no smartphone app.
Pricing
The standard cost per month for using Noterro is $25 per user.
CounSol EHR
CounSol EMR is a fully featured, user-friendly solution developed for solo practitioners. Clinical and administrative tasks are simplified by its user-friendly design. Operating as a sole practitioner places relatively few demands on time and money. The integrated medical services provided by CounSol EMR are extensive.
The learning curve for the UI is low. CounSol EMR also enables real-time scheduling of appointments and collecting payment via patient interfaces. EMR features like patient records, insurance inquiries, and bills are also included in it.
Pros
It streamlines administrative and clinical responsibilities associated with care management for single patients and solo practitioners.
Due to its HIPAA compliance, CounSol EMR is risk-free healthcare software.
The quality of care given to patients and the efficacy of therapeutic outcomes are improved.
Cons
However, it does not integrate well with other medical programs.
Pricing
The cost of CounSol EMR varies with its four distinct tiers. The base plan is about $69.95.
UroChart EHR
UroChart EHR is a specialty-focused healthcare software for urologists. Its simple, original design provides a great user experience, distinguishing it from the competitors. The navigation system is not only fast and easy to use, but it also supports multi-screening.
To facilitate quick and easy online doctor-patient contact, UroChart EHR is safe and HIPAA compliant. Its mobile app facilitates communication with primary care physicians, safeguards patients' privacy, and promptly reflects any modifications made to the primary system.
Pros
It employs ECPS to lessen the likelihood of and the severity of actual prescription drug misuse.
Innovative features include a touchscreen interface, straightforward navigation, and a recorded patient graph.
It's user-friendly and easy to get around on.
Cons
UroChart EHR occasionally crashes when users try to deal with too many tasks at once.
Pricing
The cost for UroChart EHR can be discovered from vendors.
MEDHOST EHR
Patient registration, appointment setting, visit recording, and billing are all simplified with MEDHOST EHR. Interoperability amongst HISs has enabled providers to quickly and securely communicate patient data. Its real-time alerts, drop-down menus, and customizable pre-built templates are perfect for treating medical emergencies.
It connects to the hospital's EHR so that the entire patient's medical history may be viewed in one place. Real-time notifications, drop-down options, and pre-made templates are just ER-centric features.
Pros
Medical care's efficiency and effectiveness are improved by its centralized features.
When patient records are freely available and routine procedures are automated.
Because it streamlines billing, it saves time and cuts down on mistakes for providers.
Cons
The downside is that there are occasionally unexpected interruptions.
Pricing
Contact a healthcare software provider to get its quote.
HelloNote
This medical program was developed specifically for those working in speech therapy. By streamlining the note-taking process, HelloNote helps therapists save time. Patients can inform their therapists of their progress outside of planned appointments using the secure client site.
Its functions improve communication between therapists and patients and reduce the administrative burden on them. Its customization permits altering the requirements of any therapy approach. It also works with a wide variety of third-party applications.
Pros
The documentation tools it offers are of note, as they serve to standardize all clinical files.
With its features like bespoke reports, you may quickly and easily create reports, invoices, etc.
HelloNote enhances the entire process of billing and appointment follow-up.
Cons
Logins to HelloNote sometimes result in brief service interruptions.
Pricing
Pricing for its monthly plans ranges from $25 to $100.
Kareo Billing Software
A veteran option in the medical software market is Kareo Billing Software. Initially intended for use solely in invoicing medical services, it has since grown to incorporate practice management and EHR. Its suite of insurance verification tools includes many different functions, such as processing payments and collections, archiving patient records, confirming insurance coverage, and generating customized reports.
It also can manage prescriptions, set up appointments, and include telemedicine. Most users agree that Kareo Billing Software fits solo clinics and small medical facilities well.
Pros
The user interface is straightforward.
Medical staff can swiftly adapt to its particular characteristics with the proper training and equipment.
It works well with various programs and may be easily integrated with them.
Cons
Some tools have limited customization.
Pricing
Its monthly package prices range from $125 to $199 per user.
Conclusion
Healthcare software programs, in general, automate routine clinical procedures, promote consistency in patient care, and lessen the burden of regulatory paperwork. That's why it's so important to use the cutting-edge features of modern healthcare software in your daily practice. So, choose the best healthcare software for your organization from our seven best picks of 2023.