How to Wear a White Dress This Season: A Guide to Effortless Style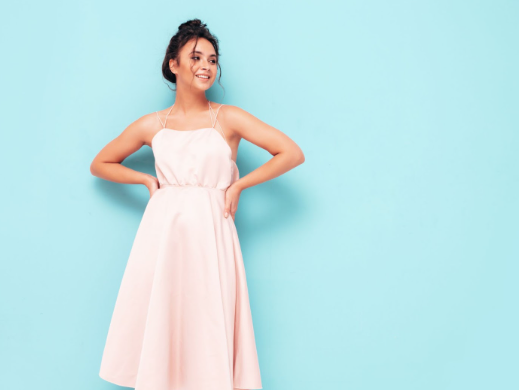 The white dress is a timeless and versatile wardrobe staple that embodies elegance and sophistication. Whether it's a flowing maxi dress, a tailored sheath dress, or a breezy sundress, white dresses have the power to elevate your style and make a statement. As the seasons change, it's essential to adapt your styling to ensure your white dress shines in all its glory. In this article, we will provide you with valuable tips on how to wear a white dress this season, allowing you to embrace effortless style and make a fashionable impression.
Embrace Seasonal Fabrics
As the seasons transition, so should the fabrics of your white dress. Opt for lighter, breathable materials during the spring and summer months. Fabrics such as cotton, linen, chiffon, or eyelet are perfect choices to keep you cool and comfortable. Consider heavier fabrics like wool blends, cashmere, or tweed in the fall and winter to add warmth and texture to your ensemble.
Layer with Confidence
Layering is the key to adapting your white dress for different weather conditions. Layer a cropped jacket, blazer, or cardigan over your dress during cooler seasons. This adds warmth while creating a polished and put-together look. For a trendy twist, try layering a white dress over a turtleneck or pairing it with a cosy sweater.
Play with Colours
White serves as an excellent canvas for incorporating pops of colour into your outfit. Add interest and depth to your white dress by accessorizing with colourful statement pieces. A vibrant belt, a bold handbag, or colourful shoes can instantly elevate your ensemble and create a visually captivating look.
Statement Accessories
Accessorizing is crucial when it comes to making your white dress stand out. Experiment with statement accessories that complement your personal style and the occasion. A chunky necklace, oversized earrings, or a wide-brimmed hat can add a touch of glamour and individuality to your white dress.
Consider the Occasion
White dresses are incredibly versatile and can be styled for various occasions. For a casual daytime look, pair your white dress with heels or sandals or sneakers and a straw hat or a crossbody bag. For a more formal event, opt for heels, elegant jewellery, and a clutch. Consider the dress code and the overall ambiance of the occasion to determine the appropriate styling choices.
Textured Details
Opt for dresses with textured details to add visual interest and dimension to your white dress. Look for lace overlays, embroidery, ruffles, or pleats, as these elements can create a striking visual impact and add depth to your ensemble.
Experiment with Silhouettes
White dresses come in a variety of silhouettes, each offering a unique style statement. Experiment with different shapes and cuts to find the one that flatters your body type and reflects your personal style. From flowy and bohemian maxi dresses to tailored sheath dresses or feminine fit-and-flare styles, there is a mini white dress silhouette for every occasion and mood.
Pay Attention to Undergarments
When wearing a white dress, it's essential to choose the right undergarments to avoid any unwanted visibility. Opt for nude or white undergarments that blend seamlessly with your dress. Consider wearing slip shorts or a slip dress underneath for added coverage and to prevent any transparency issues.
Confidence is Key
Ultimately, the most important aspect of wearing a white dress is the confidence with which you carry yourself. Embrace your individual style, wear your white dress with pride, and let your confidence shine through. Your positive energy and self-assurance will enhance your overall look and leave a lasting impression.
Conclusion
In conclusion, wearing a white dress this season allows you to embrace effortless style and create a fashion-forward statement. By selecting season-appropriate fabrics, layering with confidence, incorporating colours and accessories, considering the occasion, experimenting with silhouettes, paying attention to undergarments, and exuding confidence, you can showcase the timeless elegance of a white dress while staying on-trend and showcasing your personal style.