How to Refresh Your Bathroom This Summer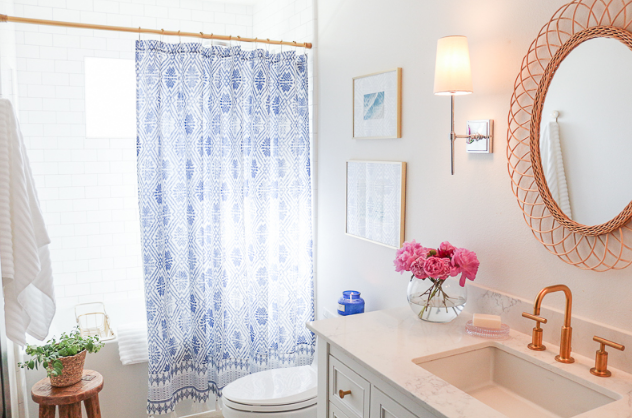 The bathroom is one of the most underrated rooms in a home. It is often the last room to get renovated, too, with living and cooking spaces naturally taking precedence. Still, we spend nearly four hours a week on average simply using the toilet in our bathroom, to say nothing of bathing or skincare routines! As such, you deserve a bathroom that reflects you. If you're not sure where to start, these simple interventions could be enough to elevate your bathroom experience this summer.
Fittings and Fixtures
Fittings and fixtures, such as your faucets, shower controls and even the shower head itself, can have a surprising amount of impact on the feel of your bathroom. If you're simply looking for a little late-summer bathroom refresher, you might need to do little more than replace your fixtures and fittings for something a little more exciting!
You could try opulent pearl handles for your shower controls, or swap out your head for a larger rainfall shower head – changing the quality of your showers as much as the aesthetic of your bathroom. Your sink faucets could be swapped out for an adjustable faucet with height, allowing you to enjoy washing your face all the more.
Replacing the Tiles
The most impactful change you could make to your bathroom would be to remove and replace your tiles. Tiles can age poorly, and quickly – remember the New Age tiles of the mid-2000s? Switching up your tile designs and patterns could be transformative for your space, and profoundly so. Imagine switching your plain white bath backsplash for a stunning natural slate wall; doing so could be transportive, particularly if paired with houseplants galore!
Picking a New Toilet
The toilet, or 'throne', is an unfortunate and unwitting centrepiece of the average bathroom. Despite your best efforts in other areas of the space, your toilet will have an indelible impact on the result of your bathroom renovation. As such, you might want to spend some time looking for toilets that complement your aesthetic! A modern bathroom might benefit from a sleek, minimalist porcelain form, while smaller maximalist bathrooms would do well to incorporate more curves.
Lighting
Too many bathrooms rely on a single, dull, ball light attached to the ceiling. This bulbous fixture naturally attracts fauna as well as dust, which can lead to unsightly deposits on the inside of the bulb. Even if this doesn't accurately describe your bathroom, it perhaps illustrates a more general trend of forgetting about bathroom lighting altogether.
If you have the wiring and the budget, your bathroom renovation could be the perfect time to multiply the number of lights in the space. Spotlighting could be used to great effect in illuminating every corner, making morning showers much easier. Ambient lighting could be installed on the walls, with dimmer switches to make late-night bathing much more enjoyable.