How to create the perfect dressing room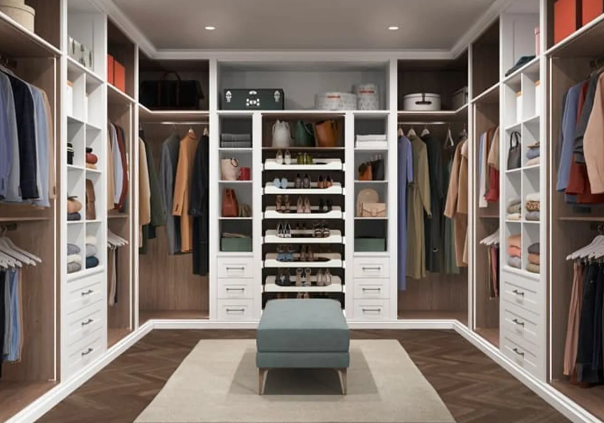 If you have a spare room that's become something of a dumping ground, why not transform it into something practical? One option is to turn this into a dressing room.
Doing this will free up space in your own bedroom. It also means that you'll be able to dedicate a whole room to your clothing, making getting ready for work, or even for a simple trip to the park, smooth and stress-free.
Should you be looking for some pointers, here are the tips and tricks to help you revamp the space.
Why make it a dressing room?
A spare room holds so much potential. There are lots of ways to make this room something special. But if you spend your days trying to cram clothing into the wardrobe you've had for years or you've noticed that the kids' clothes are drifting into your chest of drawers, making this a dressing room could be the ideal solution for you and the rest of your family.
Transform the space
Ready to make some changes? Here's how:
Before you start work on your dressing room, focus on clearing out your current wardrobe. Work through the items to keep, the ones to give to charity, and the ones that aren't salvageable.
From there, you'll know exactly what you'll be moving into your new dressing room.
This walk-in wardrobe that you're creating will need storage that's practical and easy to use. You'll want to be able to quickly pick out everything from your work ensemble to your shoes and accessories. Investing in bespoke storage like a fitted wardrobe is the perfect starting point. This will help you to arrange your clothes in a way that works for you.
This is your chance to make the room your own. Design this in a way that makes you happy. You might choose a muted colour palette so that you can focus on the outfit you're wearing that day, or you may decide to add some flair. Vibrant colours, like Pantone's Colour of the Year, Viva Magenta, are a fun way to inject your personality into the room.
Remember to add a mirror, too, so that you can see the final look.
Lighting can make a huge difference in a room. In your dressing room, you'll want to be able to see how your outfit looks before you leave the house. With the right lighting, you can see the full effect. Take some time to select what suits you, from standing lamps to spotlights.
Being organised is key to ensuring your walk-in wardrobe is functional and easy to use.
Will you transform your spare room into a dressing room?