BMF Season 3: Release Updates And Everything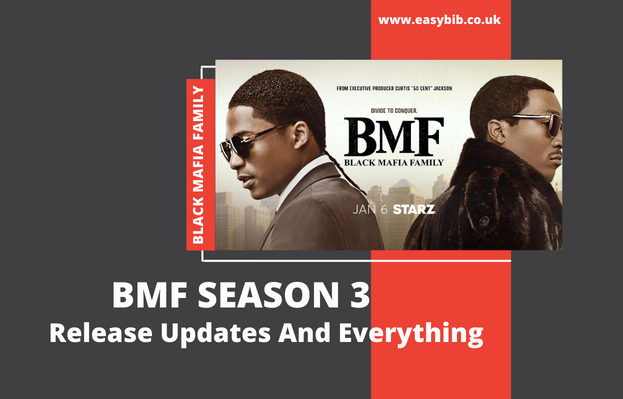 BMF (Black Mafia Family) is an American crime drama TV series that delves into the realm of the infamous BMF Season 3 (Black Mafia Family)—a formidable organization entangled in drug trafficking and money laundering. 
Based on a true story, BMF follows the journey of two brothers who emerged from the streets of southwest Detroit in the late 1980s and established one of the most influential crime dynasties in American history. The magnetic leadership of Demetrius "Big Meech" Flenory, the business acumen of Terry "Southwest T" Flenory, and their joint aspiration that transcends the drug trade to encompass the hip-hop world elevated the brothers to global iconic status.
Debuting on September 26, 2021, on Starz, the show swiftly captivated audiences with its engrossing narrative and compelling characters. Following a successful first season, BMF was greenlit for a second season, which premiered on January 6, 2023, enthralling viewers with its gripping storylines.
BMF Season 3 Release Date
As of now, the official release date for the third season of BMF has not been disclosed. The initial season of BMF premiered in late September 2021, followed by Season 2's debut in early January 2023. Considering the 16-month interval between the first two seasons, it is likely that the third season will commence airing in the first half of 2024.
The suspenseful series received its renewal for a third season on January 18, 2023, shortly after the second season's second episode—the timing of the renewal aligned with the show's strong performance. With the Season 2 premiere garnering an audience of 4.1 million viewers, it comes as no surprise that Starz decided to extend the show for a third installment.
Kathryn Busby, the programming president, conveyed in a statement, "Following the impactful launch of season two, we're excited to continue delving into the remarkable narrative of the Flenory Brothers as they rewrite the rules and revolutionize the game."
The Cast of BMF Season 3
Most of the cast of BMF is expected to return for the third season, which includes but is not limited to:
Demetrius Flenory Jr. as Demetrius "Meech" Flenory

Da'Vinchi as Terry "Southwest T" Flenory

Russell Hornsby as Charles Flenory

Michole Briana White as Lucille Flenory

Myles Truitt as B-Mickie

La La Anthony as Markaisha Taylor
Additionally, TV Line reported some exciting new cast members for season 3, including Tauheed K. Epps (a.k.a. 2 Chainz) and Shaffer Chimere Smith (a.k.a. Ne-Yo).
According to Starz, 2 Chainz will play a character named Stacks, "an Atlanta-born and bred distributor whose wisdom and stature command respect wherever he goes," and Ne-Yo will portray someone named Rodney "Greeny" Green, "a local Atlanta player who's all about making the bag. Filled with swagger and an entrepreneurial spirit, there's more than meets the eye to Greeny."
At this time, we're not sure if Eric Kofi-Abrefa will reprise his role as Lamar in BMF season 3 considering the fate of his character is now up in the air. In an interview with Variety, showrunner Heather Zuhlke remained tight-lipped on whether or not he'll be back: "That's definitely a spoiler that I don't want to speak to."
BMF Season 3 Cast: Who Is In It?
Given that the show centers around them, it's natural that Demetrius Flenory Jr. as Meech and Da'Vinchi as Terry will reprise their roles as the Flenory brothers in BMF Season 3. Unfortunately, Kash Doll won't return for Season 3 due to the character Monique's unfortunate demise in Season 2. 
The fate of the rest of the group remains uncertain. Eric Kofi-Abrefa's potential return is uncertain as well, as his character Lamar's situation after misusing crack cocaine is unclear.
Steve Harris (known for Diary of a Mad Black Woman, The Practice) and Kelly Hu (recognized for The Scorpion King, Arrow), both portraying police officers Bryant and Jin on BMF, will have similar conclusions. Bryant shouldered the blame for his son's violent actions, leading to his job loss. Harris might return with a different character trajectory. The same applies to Hu, as Jin's friendship with Bryant needs mending.
Russell Hornsby (seen in In Treatment, Fences) will continue as Charles, the brothers' deceitful father, while Michole Briana White (known for Atlanta, Malignant) embodies Lucille, the brothers' resilient mother.
What is Going to Happen in BMF Season 3?
In March 2023, BMF showrunner Heather Zuhlke shared insights with Variety regarding Season 3, characterizing the upcoming episodes as a "season of reinvention." She elaborated on what's in store, noting the theme of reinvention touching all characters:
"Anticipate a season of reinvention where you'll witness the aftermath and how each character is undergoing a period of reinvention. This encompasses Charles, Lucille, Meech, Terry, Bryant, and Jin. The choices they've made yield consequences, and you'll witness the dramatic portrayal of these outcomes as the narrative progresses."
After Season 2's conclusion, Meech and Terry emerged triumphant against law enforcement, leading to Detective Bryant's removal from the force and solidifying the BMF's standing as a respected criminal enterprise.
Season 3 might delve into Meech and Terry's endeavors to recruit new members for their expanding organization. Additionally, the narrative could address the aftermath of Monique's passing and shed light on Lamar's ultimate destiny.
How Does Season 3 Of BMF Plot Work?
The narrative of BMF Season 3 edges closer to the real-life events involving the Flenory Brothers, who admitted guilt to charges in 2007. However, there remains a considerable span to cover, given that the series has so far concentrated on the 1980s.
Season 2 wrapped up with several unresolved storylines, including Detective Bryant's dismissal from the police force after assuming responsibility for his son's actions. This development could alleviate pressure on Meech and Terry, affording them some respite.
During Season 2, the brothers made substantial strides in establishing their organization's legitimacy, a feat that set the stage for their ascent in the ranks. Yet, this ascent is likely to be met with challenges and hurdles in Season 3.
The emotional impact of Monique's tragic demise might influence Meech's perspective on his daughter Zoe in the upcoming season. As Meech embarks on a journey to build resources in Atlanta, the path to resolution could prove to be tumultuous.
How Do I watch BMF?
BMF is an exclusive creation from Starz, debuting its new episodes on the Starz channel. For those who have transitioned away from cable or satellite TV, Starz can be accessed as an additional feature on live TV streaming platforms such as Fubo TV and Hulu with Live TV.
Furthermore, episodes of BMF can be streamed on demand through the standalone Starz App. For viewers in the UK, the option to catch episodes lies in a subscription to Lionsgate Plus.
Story Details for BMF Season 3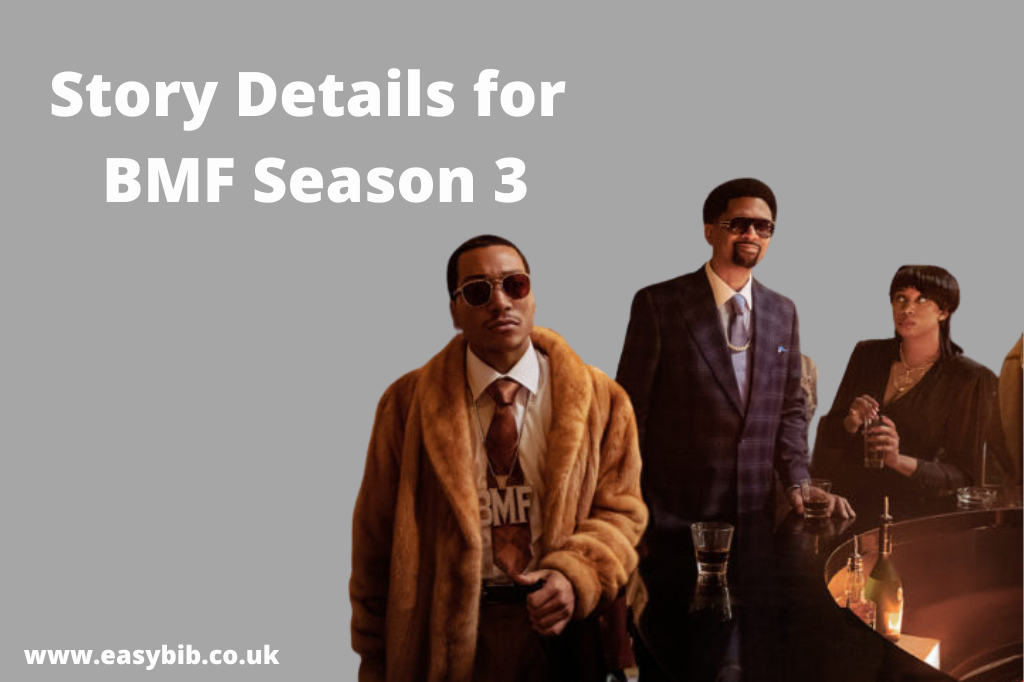 In 50 Cent's earlier Starz series, "Power," he portrayed the merciless gangster Kanan. However, it was in the prequel, "Power Book III: Kanan," that the origins of Kanan's criminal journey were unveiled. 
In contrast, 50 Cent now has the opportunity to present a real-life narrative with BMF. Season 2 merely skimmed the surface of the adult exploits of the gang members, leaving plenty of angles to explore before potentially culminating with Meech and Terry's guilty plea in 2007. With the 1980s already covered by BMF, a broader span of time remains for exploration.
Season 3 of BMF could seamlessly continue from Meech and Terry's triumphant ventures at the conclusion of the previous season. With Detective Bryant out of the picture, the brothers may finally find some respite from law enforcement. 
Throughout the entirety of Black Mafia Family's second season, the duo labored to establish BMF's reputation as a respected criminal enterprise, and it appears they are making headway. As B-Mickie's departure left a void in the organization, the Black Mafia Family's growth with fresh members is a probable development in the storyline of BMF season 3.
Starz's President of Original Programming, Kathryn Busby, hinted at significant plot twists in BMF season 3 (via Deadline). Busby noted, "Following such a strong debut with season two, we're thrilled to continue to expand on the incredible story of the Flenory brothers as they change the game by writing their own rules." 
Frequently Asked Questions
How many episodes are in BMF Season 2?
The second season of BMF comprises ten episodes.
When is the BMF Season 2 finale available on Starz?
 The season finale of BMF is currently available for streaming on Starz.com and the Starz app. For those wanting to watch live on Starz, BMF Season 2, Episode 10 aired on Friday, March 17 at 8:03 p.m. ET.
Is there going to be a Season 3 of BMF on Starz? 
Certainly! Starz renewed the series for a third season earlier this year.
When is the expected premiere date of BMF Season 3 on Starz? 
While no official release date has been declared, we have a reasonable estimation for the arrival of new episodes. BMF debuted in late September of 2021, and Season 2 premiered in early January 2023.