Alex Murdaugh: Why Did Alex Murdaugh Kill His Family?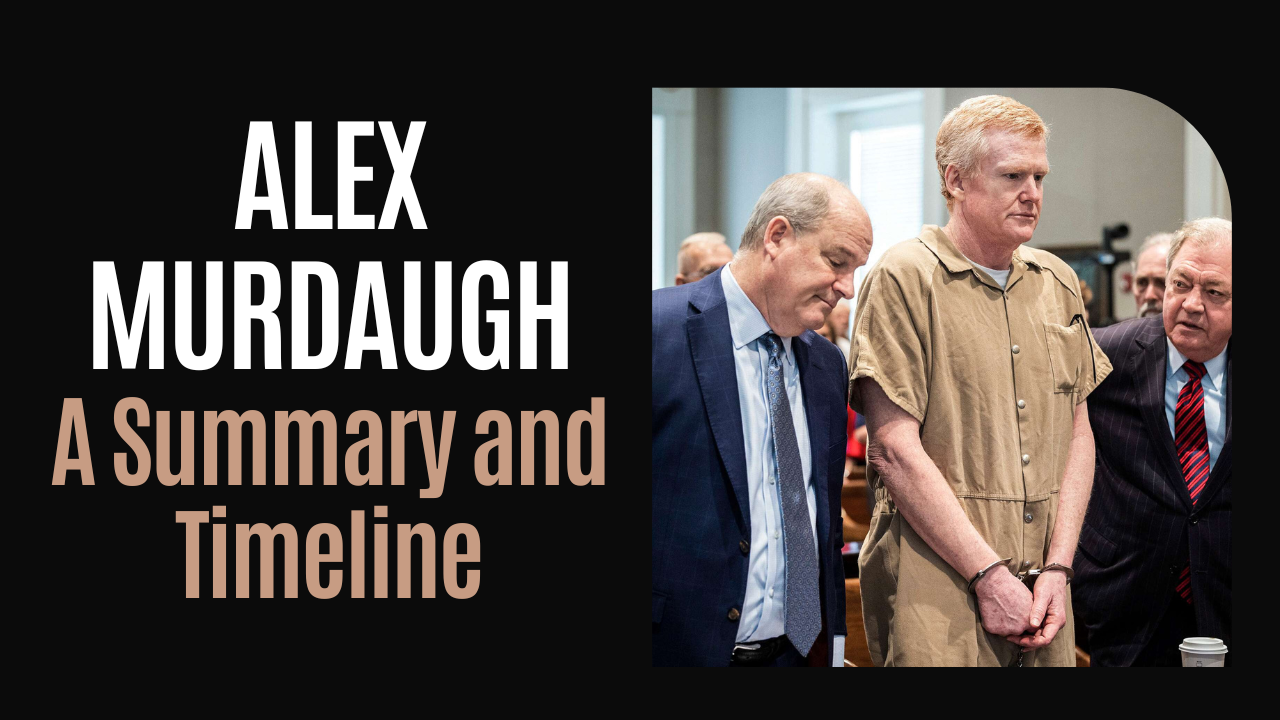 In Walterboro, South Carolina, a deeply troubling and complex series of events unfolded involving a lawyer and his family. The perplexing events led to multiple arrests, startling revelations, and a widely followed trial, drawing extensive public interest. At the heart of this story is Alex Murdaugh, a 54-year-old individual whose family had a dominant presence in the legal community of the southern part of the state for a century. 
In March, after a jury trial, Alex Murdaugh was convicted of murdering his wife and son in a bid to conceal his financial misdeeds. As a consequence, a judge handed down a life sentence.
The saga commenced on the evening of June 7, 2021, when Alex Murdaugh, hailing from a lineage of top prosecutors that included his father, grandfather, and great-grandfather, made a distressing call to 911. He reported that his wife and one of their two sons had tragically fallen victim to fatal gunshot wounds.
Why Did Alex Murdaugh Kill His Family?
On June 10, Alex Murdaugh faced a hearing related to his financial matters, particularly concerning a multimillion-dollar wrongful death lawsuit connected to a tragic 2019 boat accident.
In this incident, Paul Murdaugh, Alex's son, had recklessly crashed his father's boat into a bridge while under the influence, resulting in the death of 19-year-old Mallory Beach and causing injuries to four other friends.
During his double-murder trial, Alex Murdaugh testified, vehemently denying the characterization of himself as a 'family annihilator.' 
Attorney Waters argued that the immense pressures mounting on Alex, including the impending legal troubles and the tragic loss of his wife and son, were unlike anything he had ever faced before.
 Waters suggested that Alex had always managed to stay ahead in the game until these extraordinary events occurred.
What Happened at Trial?
During the murder trial, the prosecution's key evidence revolved around crucial video footage that placed Murdaugh at the crime scene on the night of the murders, contradicting his repeated claims of innocence.
The defense's case was notable for Alex Murdaugh's own dramatic testimony, in which he vehemently denied any involvement in the fatal shooting of his wife and son. 
However, during his testimony under oath, he admitted to lying to investigators about his whereabouts, embezzling millions of dollars from his former law clients, and struggling with a rampant opioid addiction that had left him paranoid.
In total, state prosecutors alleged that Murdaugh had fraudulently acquired over $9 million through deceptive means, defrauding his law firm, clients, and even the government. 
He faced approximately 100 state criminal charges for a range of financial crimes, including embezzlement, computer-related offenses, money laundering, and conspiracy. Additionally, in May, he was indicted on 22 federal charges connected to various financial schemes.
The murder conviction marked the most significant chapter in a bizarre and stranger-than-fiction story that included allegations of misappropriated funds, an unusual purported suicide-for-hire plot, an insurance scam, a stint in rehab for drug addiction, numerous financial crimes, and his disbarment from the legal profession.
Murdaugh's Testimony
Waters skillfully undermined the credibility of the claims made by Murdaugh during his two days of testimony.
One of the key points Murdaugh testified to was his false alibi regarding his whereabouts at the dog kennels. He explained that he lied because he was paranoid about the illegal painkillers in his possession and had a deep distrust of law enforcement. 
Waters pointed out the inconsistency in this, highlighting that Murdaugh was a person who prominently displayed a badge on his windshield and had even installed blue lights on his private vehicle. 
It was evident that Murdaugh had a cozy relationship with local law enforcement, making his claims of paranoia and distrust questionable.
Waters also raised a significant question: How could any father lie about crucial information following the heinous murder of his wife and son, and then assert to the jury that he had fully cooperated with investigators?
While on the witness stand, Murdaugh openly confessed to his decade-long involvement in financial schemes, and Waters skillfully used this admission to suggest that Murdaugh was a master of deception. 
Waters argued that this was a man who had built his trade on falsehoods, lying about critical facts in the case and seamlessly transitioning to new lies when faced with unexpected challenges during his testimony.
Murdaugh's 911 Call 
After returning from a visit to his mother's home in nearby Almeda, Murdaugh claimed that he couldn't locate his son Paul or wife Maggie at their main residence. Subsequently, he decided to drive to the kennels in search of them, arriving at 10:05:57, as indicated by GPS data retrieved from his Chevrolet Suburban.
At 10:06:14, a mere nineteen seconds later, Murdaugh made a frantic 911 call, reporting that he had checked his wife and son's pulses and found them to be grievously shot.
During the trial, Prosecutor Waters posed a crucial question. He wondered if just nineteen seconds were enough to register surprise, grasp the gravity of the situation, exit the vehicle, approach the bodies, and call 911. This inquiry cast doubt on the authenticity of Murdaugh's actions.
Waters argued that the reason for this remarkably quick response was that Murdaugh was well aware of the gruesome scene he would encounter, suggesting that he knew exactly what he would find when he arrived.
Conclusion
In the shadow of privilege and intrigue, the story of Alex Murdaugh continues to captivate the nation. As we await answers and closure, one thing remains clear: the enigma of this case is far from being unraveled.
FAQs
What is the significance of the Murdaugh family in South Carolina?
The Murdaugh family has a long history of influence and power in the Lowcountry of South Carolina, particularly in the legal field.
Are there any developments in the investigation into the Murdaugh murders?
The investigation is ongoing, with new developments emerging periodically. The case continues to evolve.
How has social media impacted the Alex Murdaugh case?
Social media has played a substantial role in shaping public opinion and keeping the case in the spotlight.
What is the potential legal fallout for Alex Murdaugh?
As the investigation unfolds, the legal consequences for Alex Murdaugh remain uncertain, depending on the evidence presented.