Afters Ice Cream: Redefining Dessert Delights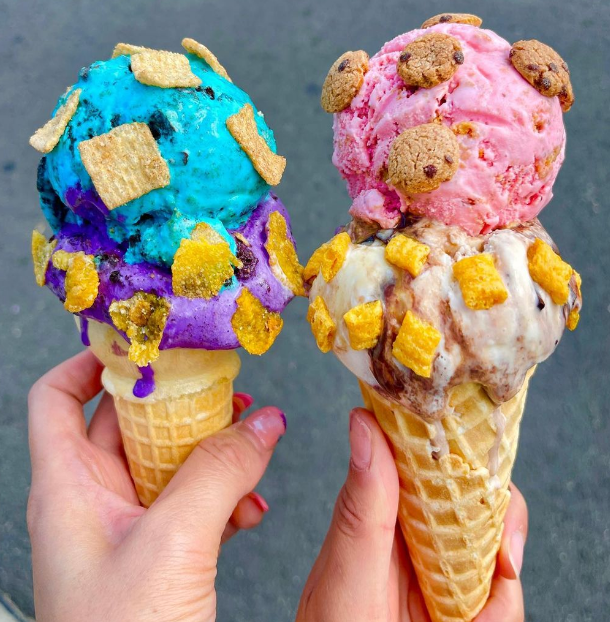 Are you ready to embark on a journey through the realm of ice cream that defies convention and tantalizes your taste buds like never before? Look no further than Afters Ice Cream, a culinary delight that has redefined the frozen dessert experience. This is the story of how a visionary concept transformed into a cultural sensation, leaving an indelible mark on the world of sweets.
Afters Ice Cream: A Brief Overview
In the heart of Fountain Valley, California, a dessert revolution was born in February 2014. Afters Ice Cream emerged not just as an ordinary ice cream parlor, but as a groundbreaking concept that sought to revolutionize the way people perceive and savor ice cream. Founded by a group of visionary entrepreneurs, Afters set out on a journey to create something extraordinary.
At the helm of Afters' creative offerings stands their pièce de résistance – the "Milky Bun." Conceived by CEO Scott Nghiem, this innovative creation took the culinary world by storm. Imagine a warm, delectable donut, filled to perfection with handcrafted ice cream that oozes flavor with every bite. The Milky Bun became an instant sensation, drawing food enthusiasts and Instagrammers alike, eager to capture its irresistible allure.
Afters Ice Cream Menu
Let's take a tantalizing tour through some of the most mouthwatering and innovative ice cream flavors that Afters has to offer.
1. Cookie Monster
Do you dream of cookies, on cookies, on cookies? Afters Ice Cream turns that dream into reality with its tantalizing Cookie Monster flavor. This vanilla-based ice cream is generously loaded with chocolate chip cookies, crushed Oreo cookies, and drizzles of rich chocolate fudge. Every spoonful is a delightful symphony of textures and flavors, making it a true paradise for cookie enthusiasts.
2. Birthday Cake
Why wait for birthdays to enjoy the magic of cake? Afters Ice Cream presents Birthday Cake, a sweet cream ice cream adorned with chunks of sugar cookies and a burst of rainbow sprinkles. It's a celebration in a scoop, complete with a dab of pizazz that brings joy to every bite.
3. Cookie Butter
Indulge in the creamy richness of Cookie Butter ice cream, featuring a base of speculoos ice cream infused with crushed speculoos cookies. The result? A heavenly treat that envelops your taste buds in sweet, sweet goodness.
4. Dark Matter Brownie Batter
Prepare to have your taste buds tantalized with Dark Matter Brownie Batter. This flavor is a decadent delight, featuring brownie batter ice cream with fudge chunks and luscious chocolate swirls. It's an indulgence that satisfies your deepest chocolate cravings.
5. Jasmine Milk Tea
Experience the perfect fusion of creamy ice cream and soothing jasmine tea with Jasmine Milk Tea ice cream. Crafted with real jasmine tea leaves, this flavor offers a delicate balance of creaminess and aromatic tea essence.
6. Milk and Cereal
Transport yourself back to carefree mornings with a bowl of cereal, but better! Milk and Cereal ice cream features a vanilla base with Afters' famous cereal flakes mixed in, creating a harmonious blend of flavors and textures that evoke nostalgia.
7. Mint Monster
For those who crave a refreshing and savory treat, Mint Monster is a must-try. This mint and vanilla base ice cream is adorned with crushed Oreos and chocolate chip cookies, delivering a delightful combination of flavors that leaves a fresh and satisfying feeling.
8. Thai Tea
Embrace the classic Thai Tea experience in the form of creamy ice cream. Thai Tea ice cream captures the essence of this beloved beverage, offering a rich and creamy flavor with a touch of exotic allure.
9. Triple C
Triple C ice cream is a symphony of indulgence, combining chocolate chips, chocolate fudge, and caramel in a luscious vanilla base. It's a flavor explosion that will leave your taste buds dancing with delight.
10. Salty Oreo
Elevate the timeless cookies and cream combination with a salty twist. Salty Oreo ice cream takes the familiar to new heights, delivering a harmonious balance of flavors that satisfy all your taste bud cravings.
11. Strawberry Cookie Crunch
Experience the classic charm of strawberry ice cream, elevated with the addition of chocolate chip cookies. Strawberry Cookie Crunch is a delightful fusion of fruity sweetness and irresistible cookie crunch.
12. Peanut Butter S'mores
Get ready to sing "Kumbaya" with every bite of Peanut Butter S'mores ice cream. This flavor features a peanut butter and vanilla base adorned with chocolate-covered pretzels, marshmallows, and fudge, capturing the essence of a cozy campfire treat.
13. Chocolate Chip Cookie
Indulge guilt-free with Chocolate Chip Cookie ice cream. Made with a plant-based chocolate chip cookie base, this flavor is accompanied by house-made vegan chocolate chip cookies, chocolate chips, and chocolate swirls. A delicious option for vegans and non-vegans alike.
14. French Toast Churro
Experience the comforting flavors of French Toast Churro ice cream. With a cinnamon-sugar base and crunchy cinnamon toast crunch mixed in, this flavor offers a delectable twist on a beloved breakfast favorite.
15. Frozen Hot Cocoa
Embrace the cozy vibes of winter with Frozen Hot Cocoa ice cream. Featuring a hot cocoa base, marshmallows, and crushed Oreos, this flavor delivers the magic of winter in a chilly scoop.
16. Saigon Coffee
Coffee lovers, rejoice! Saigon Coffee ice cream is made with strong espresso beans, creating a creamy and indulgent coffee flavor that satisfies both your caffeine and taste bud needs.
17. Mango Sorbet
For a burst of refreshing tropical goodness, Mango Sorbet is the perfect choice. Made with real mango puree, this water-based ice cream is clean, fresh, and utterly delightful.
18. Madagascar Vanilla
Indulge in the purest form of vanilla ice cream with Madagascar Vanilla. Made with real vanilla beans from Madagascar, this flavor offers a truly exquisite and elegant taste that transports you to a vacation of flavors.
Satisfy your cravings and embark on a journey of delectable flavors with Afters Ice Cream. With each scoop, you'll discover a new world of taste sensations that celebrate the artistry of frozen desserts.
Afters Ice Cream Location & Contact
Afters Ice Cream HQ
16130 Gothard St.
Huntington Beach, CA 92647
Hello@AftersIceCream.com
Final Words
Afters Ice Cream's journey from a visionary concept to a cultural phenomenon is a testament to the power of innovation, brand identity, and the ability to create lasting memories through culinary delights. As the pioneer of the "Milky Bun" and a symbol of creative indulgence, Afters has left an indelible mark on the dessert industry. With its unwavering commitment to excellence, Afters Ice Cream continues to inspire, delight, and redefine the way we experience the joy of desserts.
So, the next time you're craving a scoop of something extraordinary, remember that Afters Ice Cream is more than a dessert; it's an experience that invites you to savor every moment, one bite at a time.
FAQs About Afters Ice Cream
1. What is Afters Ice Cream known for?
Afters Ice Cream is renowned for its innovative dessert creations, particularly the "Milky Bun" – a warm donut stuffed with premium ice cream.
2. How did Afters Ice Cream gain popularity?
Afters Ice Cream leveraged social media to showcase its visually stunning and delicious treats, captivating a wide audience and becoming a cultural phenomenon.
3. Where did Afters Ice Cream originate?
Afters Ice Cream originated in Fountain Valley, California, where its first location opened its doors in February 2014.
4. Where can I experience Afters Ice Cream?
Afters has over twenty-five locations across Southern California, with more openings planned, ensuring you're never far from a sweet adventure.
5. What makes Afters Ice Cream different from other dessert shops?
Afters stands out for its innovative Milky Bun, a warm donut stuffed with handcrafted ice cream, and its strong emphasis on branding and community.
Also: Read Chocolate Chip Cookies Recipe